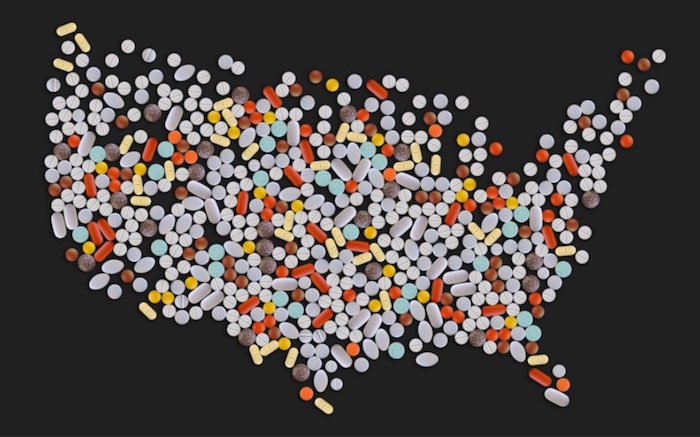 Drug Overdoses in America (2006 - 2016)
Drug overdoses have been a growing epidemic in the United States dating back to the 1960s. In this research project, we focused in on drug overdoses from 2006-2016 and what factors could have lead up to overdoses. Our possible factors included poverty, unemployment, high school graduation, divorce, obesity, and prescribed drugs (inlcuding legal opioids) in every state. Each factor had an effect on drug overdose, however, there was not just one factor that was an outlier. Please look below at our data visualization for a better analysis.
The "Drug Overdoses" map, right below the factors map, includes the number unintentional overdoses, suicide overdoses, and alcohol poisonings for each state.
West Virginia overall had the highest drug overdose rate in 2016 of 52 per 100,000 people.
One of the highest factors was in Prescription:
In 2006, it was 130 prescriptions were prescribed per 100 people.
In 2016, it was 96 prescriptions per 100 people
Nebraska overall had the lowest drug overdose rate in 2016 of 6.4 per 100,000 people.
The lowest factor was in Unemployment:
In 2006, 3.1% of the population were unemployed
In 2016, 3.1% of the population were unemployed
One huge impact shown in the data was the recession which lead to a spike in all of the factors. This lasted from 2009 to 2011, where we saw a rate increase in poverty, obesity, prescribed drugs, and especially unemployment. Many factors contribute to an economy's fall into a recession, but the primary cause was inflation. It was also around the time of the recession that legal drug prescriptions were at an all-time high.
Because there was no one factor that seemed to be the lead cause of drug overdoses, we decided to get an average of all factors so that we can find any possible patterns. This is what we found:
Conclusion
After looking at the visualization, you'll notice two patterns. The first being that states like Kentucky, Ohio, Pennsylvania, West Virginia, Maryland, and Delaware all have some of the highest overdose rates. This is most likely because Ohio is home to the where interstates 70 & 75 intersect. The two highways stretch the across the country and could potentially be the reason why this region is such a hotbed for overdoses. Next, you'll notice that border states like Florida, Louisiana, Arizona, and New Mexico typically have higher overdose rates over the years. You'll also see that since these states are close in proximity to the border, the states surrounding the ones previously mentioned seem to have higher overdose rates as well.
As you can tell from the graph above, there is a significant drug overdose epidemic going on today in America, especially in the last few years. From all the data presented above, we've concluded that it does not seem as though it's a specific factor that's been causing these overdoses, but instead, a combination of factors and accessibility to both legal and illegal drugs that can differ from state to state.